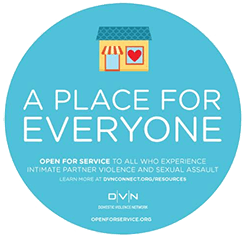 DIVERSITY AND INCLUSION STATEMENT
Uniqueness is powerful. Be yourself.
To be engaged, you must feel included and valued. We strive to build and nurture a culture of inclusiveness and diversity. Where there is a deep sense of pride, passion, and belonging that transcends any individual, role, or program and is unified in our shared commitment to eradicate domestic and sexual violence.
We know through experience different ideas, perspectives, and backgrounds create a strong and more creative environment that delivers better results.
Together, we continue to build an inclusive culture that encourages, supports, and celebrates the diverse voices of our board and committee members, employees, volunteers, and clients to feel empowered to share their experiences and ideas.
Read more full diversity policy here.